Hong Kong Mixian in Pork Broth – Spicy Rice Noodles in Pork Broth
Product Detail
Product Tags
Hong Kong Mixian in Pork Broth - Spicy Rice Noodles in Pork Broth
Rice vermicelli with meat sauce and pork bone soup, very popular flavor from Hong Kong. Level 9 spicyness, the sourness to pungency ratio is 3:7. Noodles paired with minced meat sauce and other toppings. take a sip, the tip of the tongue seems to dance, spicy-sour-fresh-sweet-fragrant, all kinds of flavors are very enjoyable.
The mixian are made simply with rice & water, and it have a very smooth surface yet chewy texture. The flavor is fragrant, numbing, hot and spicy.
Rice noodles are plentiful and really smooth. This is a very perfect fast food as the seasonings and liquids combine with together very well.
Rice noodles, Pork meat paste, Pork broth, Vinegar, Soybean sprouts, Fired bean curd roll, Paprika, Chopped green onions and coriander
1. Rice Noodle Bag: rice, edible cornstarch, water
2. Pork Meat Paste Bag: peas, drinking water, soybean oil, sweet soybean paste, soybean paste, brewing sauce, oil pepper, pork, Fushun spicy sauce, puffed soy products, white sugar, soybean isolate protein, ginger, garlic, E621, salt, chili powder, coffee, spices, flavor yeast extract
3. Pork Broth Bag: beef bone extract (beef bone, drinking water, butter, salt), refined soybean oil, garlic, drinking water, salt, spices, sugar, yeast extract, brewing Soy sauce, Disodium 5'-ribonucleotide, corn starch, E202
4. Vinegar Bag: water, rice wine (water, rice, fermented red yeast rice), white sugar, fructose syrup, salt
5. Soybean Sprouts Bag: bean sprouts, water, salt, liquor, yeast flavor seasoning, E621, Disodium 5'-ribonucleotide, E95, E202, lactic acid
6. Fired Bean Curd Roll Bag: soybean, water, soybean oil
7. Paprika Bag: chili pepper
8. Green Onion and Coriander Bag: Green Onion, coriander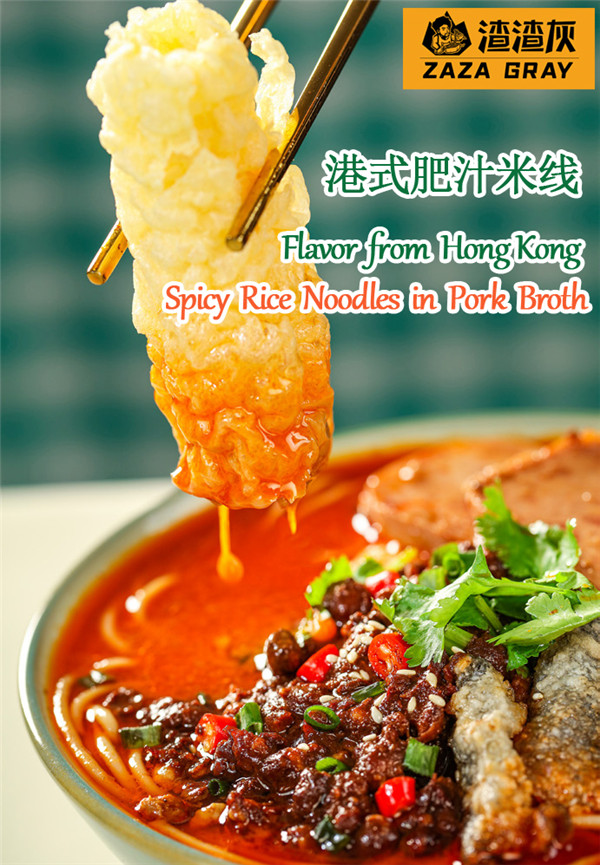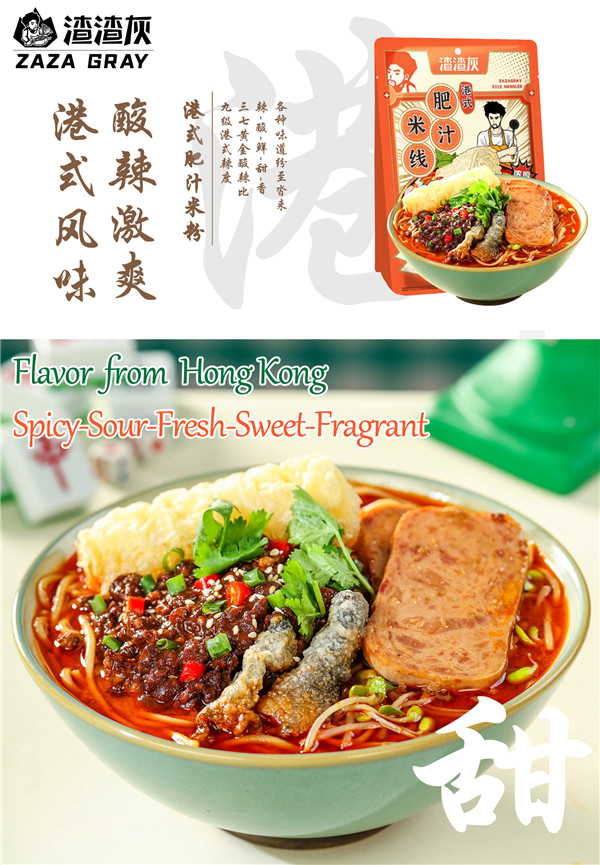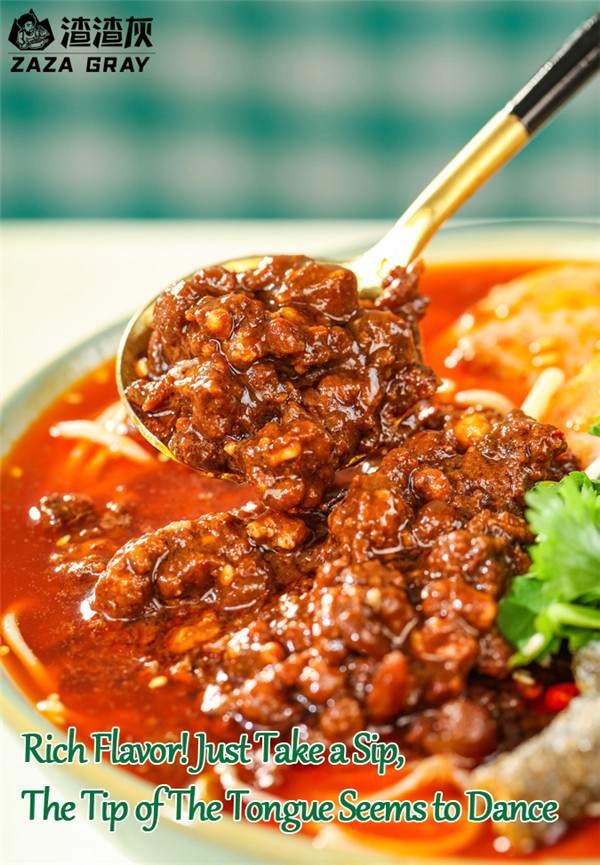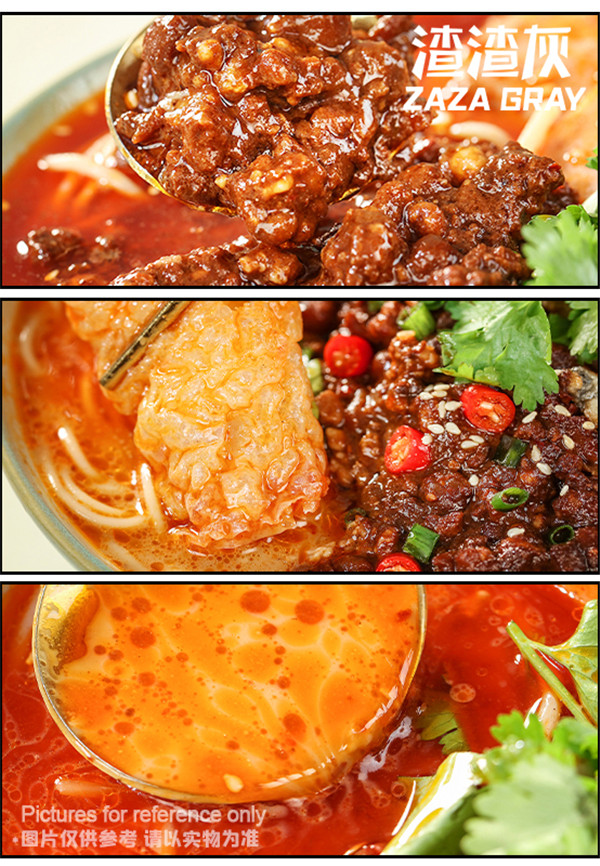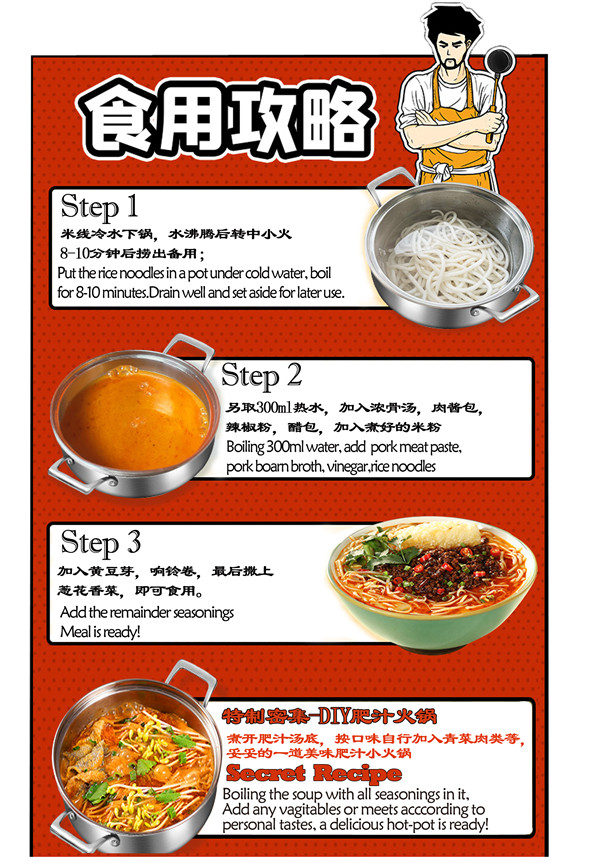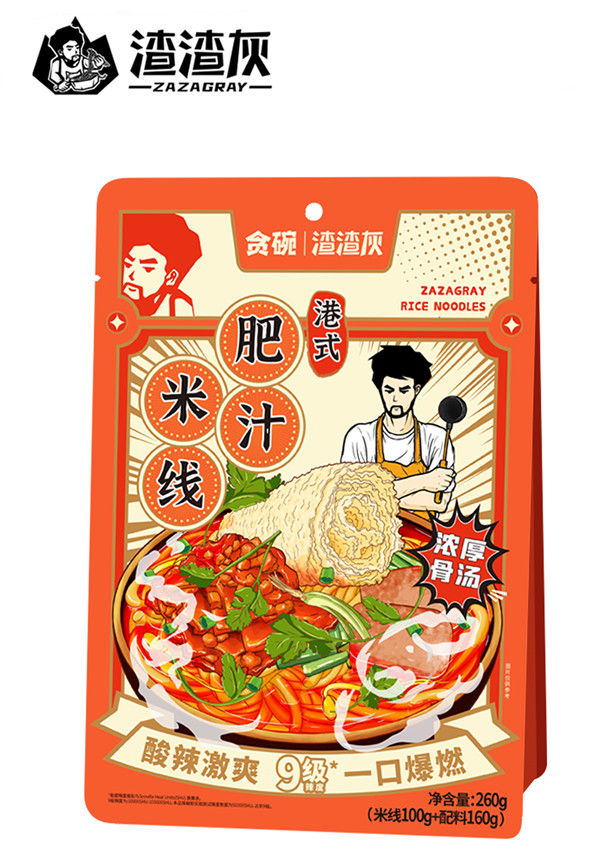 | | |
| --- | --- |
| Product Name | Hong Kong Mixian in Pork Broth - Spicy Rice Noodles in Pork Broth |
| Brand | ZAZA GRAY |
| Place of Origin | China |
| OEM/ODM | Acceptable |
| Shelf life | 180days |
| Cooking Time | 10-15minuts |
| Net weight | 260g |
| Package | Single pack color box |
| Quantity / Carton | 24 bags |
| Carton Size | 54*37*18cm |
| Storage condition | Store in a dry and cool place, avoid high temperature or direct sunlight |