Rice Noodles with Bamboo Shoots and Pork Paste
Product Detail
Product Tags
Rice Noodles with Bamboo Shoots and Pork Paste
Authentic rice noodle, together with selected seasonal fresh winter bamboo shoots, mixed with fine pork, the fragrance bursted out from the integration. A delicious balance of taste is sure to satisfy every one of your cravings, from one bite to the next.
This recipe combines the unique flavor and crispy texture of bamboo shoots, fired peanuts and noodles in a pork paste& sauce. It is an Asian dish you may not have thought you could create at home by yourself. The combination of Bamboo shoots and pork paste gives a delicious and unusual flavour.
This ZAZA GRAY instant noodles is conveniently cooked in a matter of minutes, it is perfect as a snack or a simple meal with the option to add meat and vegetables.
Rice noodles, Bamboo shoots and pork paste, Special soy sauce, capsicol, Fired peanuts, Chopped green onions
1. Rice Noodle Bag: rice, edible cornstarch, water
2. Bamboo Shoots and Pork Paste Bag: soybean oil, pork, bamboo shoots, bean paste, ginger, garlic, sweet soybean paste, white sugar, seasoning spice, liquor, Sichuan peppercorn, pepper, edible seasoning oil
3. Soy Sauce Bag: brewed soy sauce, edible salt, edible corn starch, maltodextrin, sugar, yeast extract , star anise powder, clove powder, cinnamon powder, cumin powder, geranium powder, green onion powder, spices, E631, Disodium 5'-ribonucleotide, anhydrous
4. Fired Peanuts Bag: peanuts, edible Vegetable Oil, edible salt, E631
5. Capsicol Bag: vegetable oil, pepper, white sesame, edible salt, spices
6. Green Onion Bag: Green Onion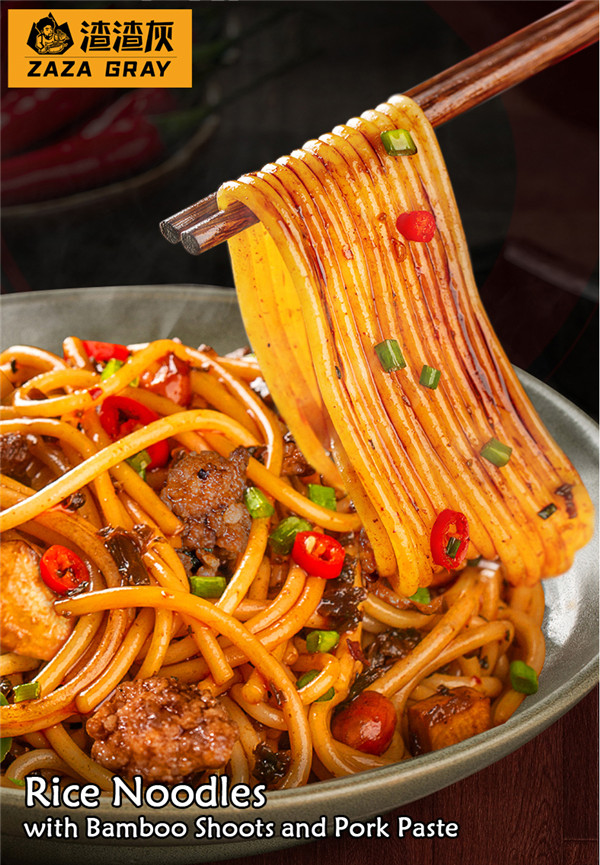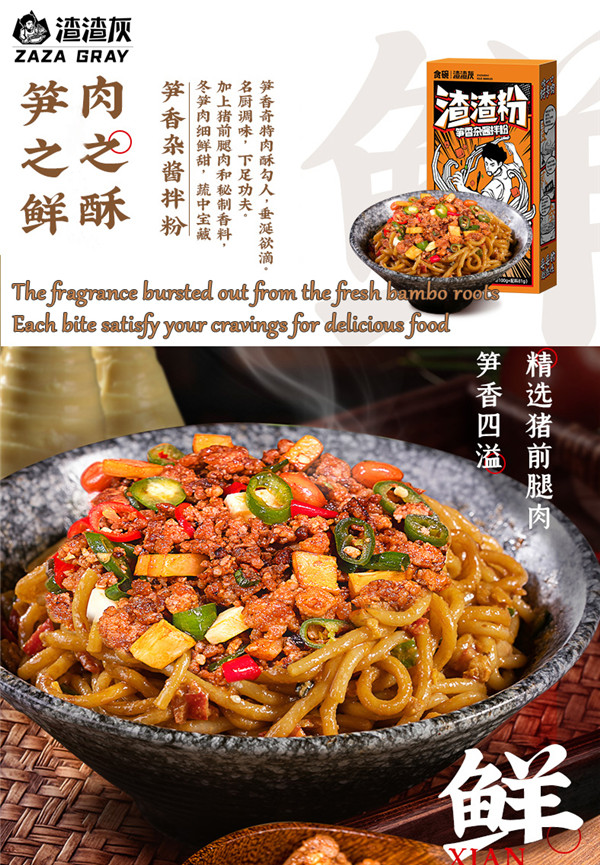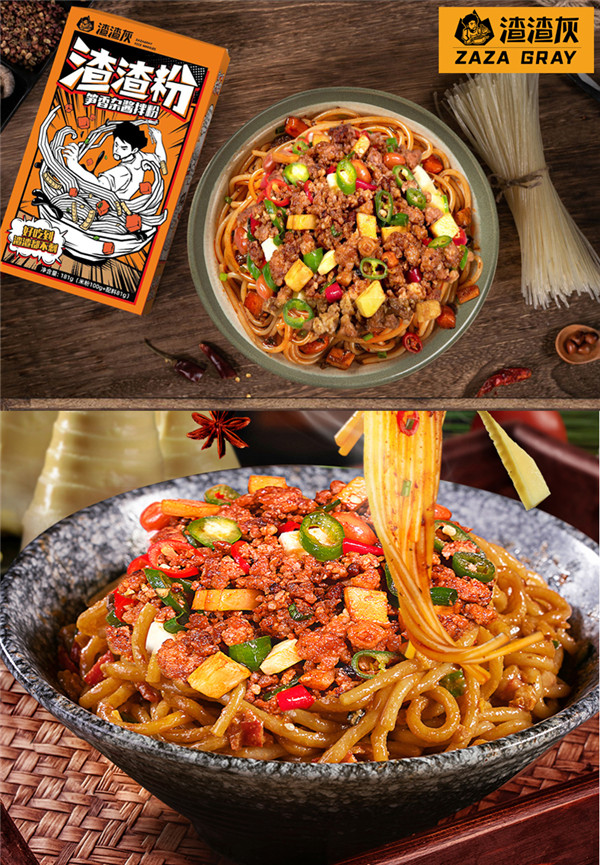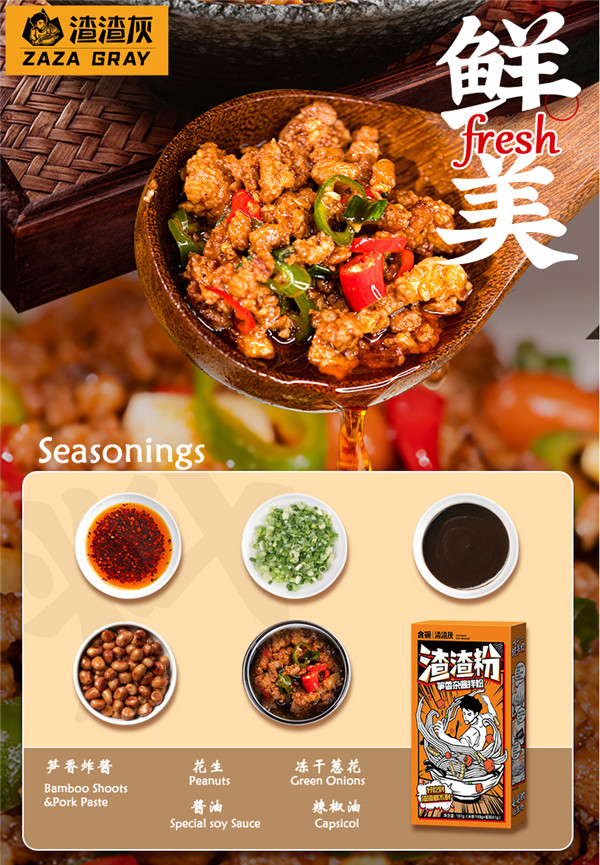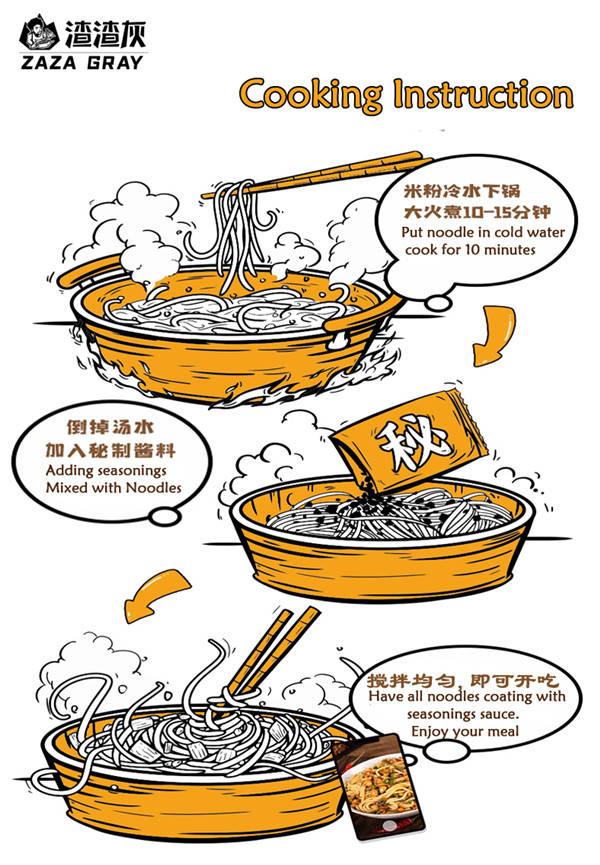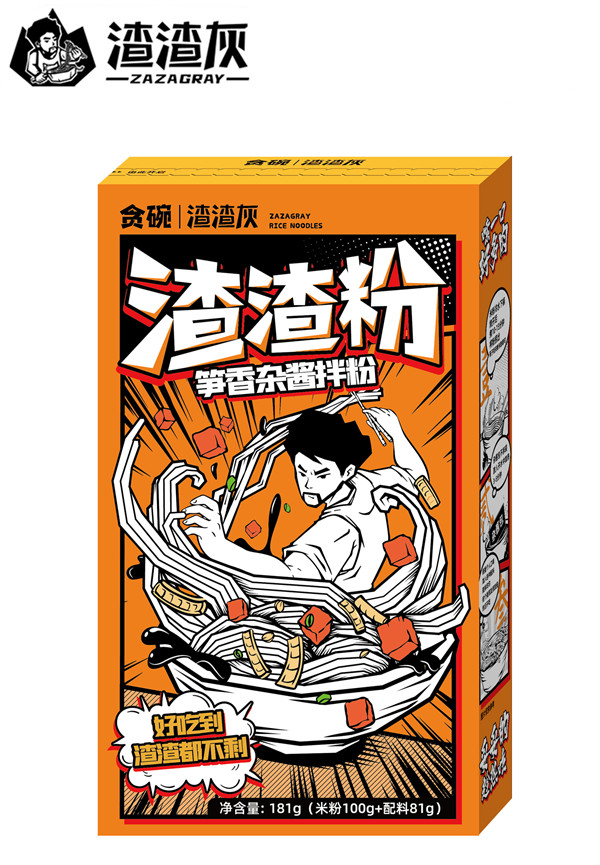 | | |
| --- | --- |
| Product Name | Rice Noodles with Bamboo Shoots and Pork Paste |
| Brand | ZAZA GRAY |
| Place of Origin | China |
| OEM/ODM | Acceptable |
| Shelf life | 180days |
| Cooking Time | 10-15minuts |
| Net weight | 181g |
| Package | Single pack color box |
| Quantity / Carton | 32 boxes |
| Carton Size | 43*31.5*26.5cm |
| Storage condition | Store in a dry and cool place, avoid high temperature or direct sunlight |