Rice Noodles in Hot and Sour Golden Fish Broth
Product Detail
Product Tags
Rice Noodles in Hot and Sour Golden Fish Broth
The fresh golden soup base is rich in sour and spicy, blend with slices of fish meat, perfect! Paired with Chinese rice noodles, It is such a rich flavor.
It's rice noodles and fish flavor time! Enjoying a delicious bowl of Golden hot & spiced rice vermicelli noodle Soup is just like getting a big big hug from your mom.
Rice noodle,Hot and sour fish broth, Fired egg, Spicy pickled bamboo shoots, Black fungus, Chopped green onions
1. Rice noodle:rice, edible cornstarch, water
2. Hot and sour fish broth: fish soup seasoning,water, pork bone soup seasoning, soybean oil, salt, yellow lantern chili sauce, frozen Pumpkin puree, garlic, frozen tilapia bones, sugar, vinegar
3. Fired egg:egg, vegetable oil, sugar, salt, soy sauce
4. Spicy pickled bamboo shoots:bamboo shoots, water, pickled peppers, salt
5. Black fungus:black fungus, water, salt
6. Chopped green onions: green onions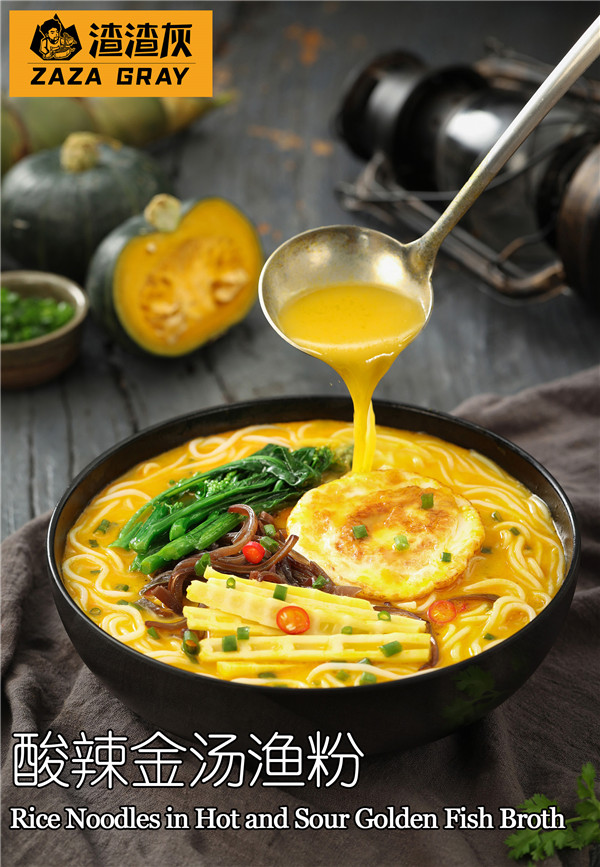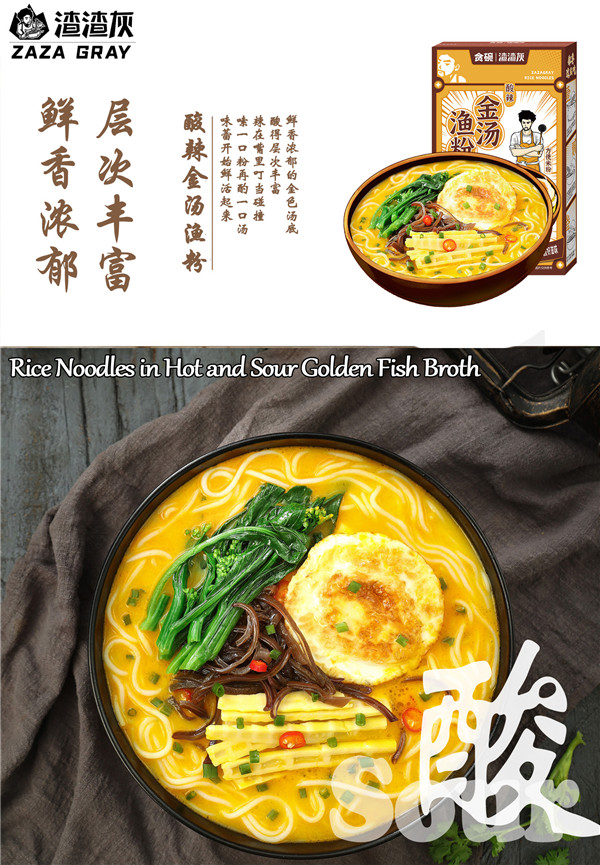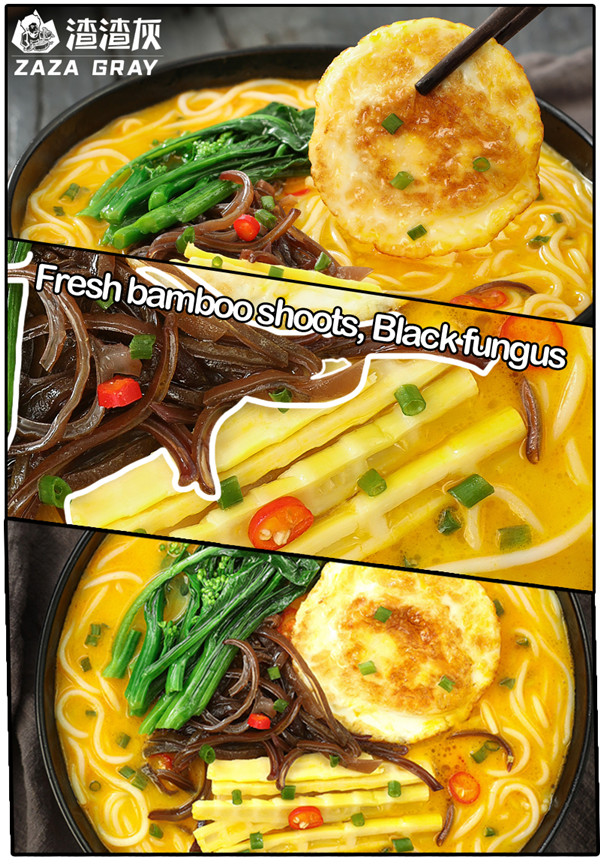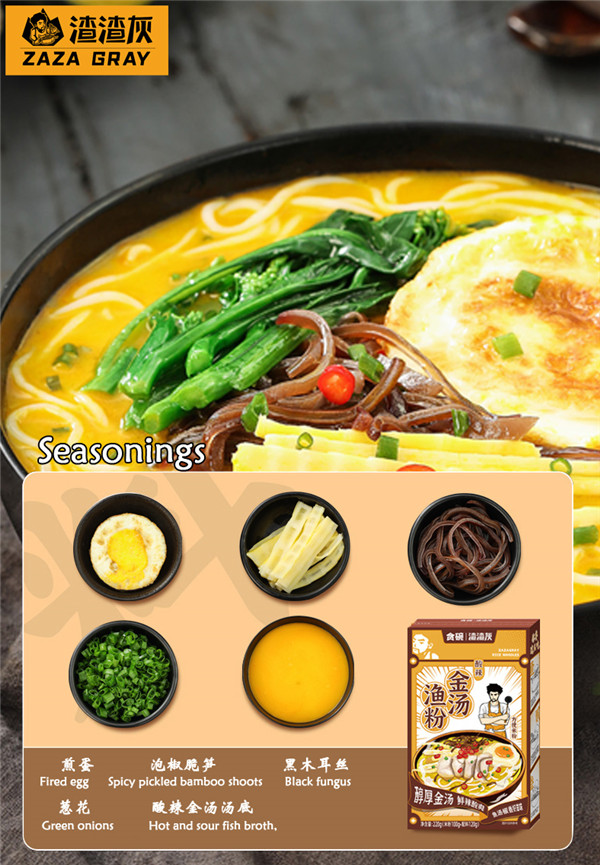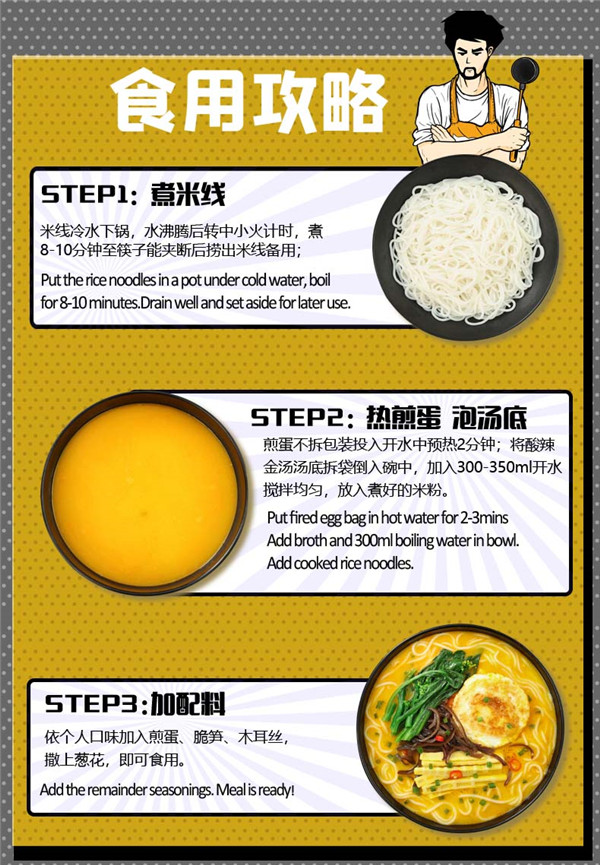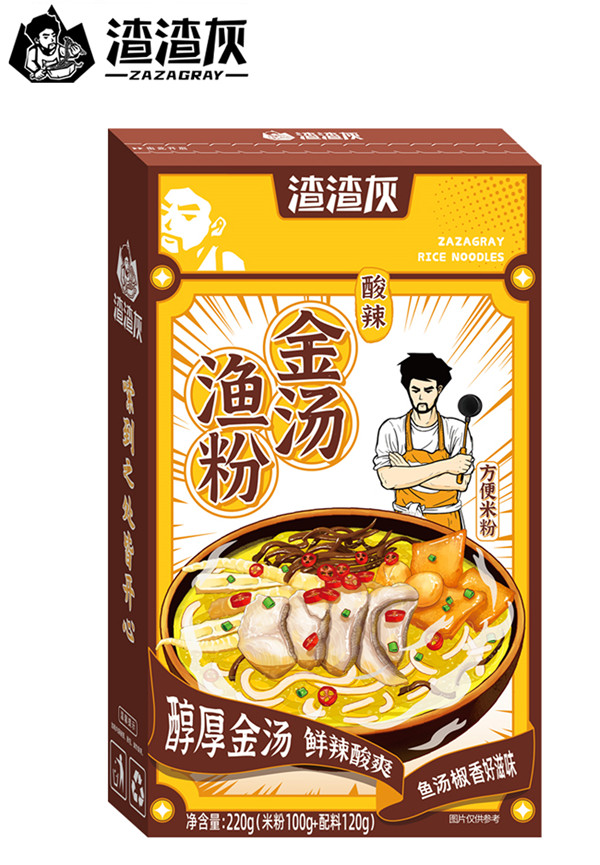 | | |
| --- | --- |
| Product Name | Rice Noodles in Hot and Sour Golden Fish Broth |
| Brand | ZAZA GRAY |
| Place of Origin | China |
| OEM/ODM | Acceptable |
| Shelf life | 240days |
| Cooking Time | 10-15minuts |
| Net weight | 220g |
| Package | Single pack color box |
| Quantity / Carton | 32 bag |
| Carton Size | 43.0*31.5*26.5cm |
| Storage condition | Store in a dry and cool place, avoid high temperature or direct sunlight |