Spicy Rice Noodles with Braised Pork
Product Detail
Product Tags
Spicy Rice Noodles with Braised Pork
Authentic Jiangxi rice noodles, local flavor of Nanchang. Rich ingredients, with more than 50 grams pork sauce. Paried with rice noodles vermicelli and other flavored seasonings, it is full of fragrance.
If you're looking for something really quick and easy for a busy week family meal, look no further than our Spicy Rice Noodles with Braised Pork. Say hello to these delicious pork noodles, made with a spicy special sauce.
ZAZA GRAY provide easy to make noodle food that can be cooked by anyone. you will enjoy the happiness of making food.
Rice noodles, Braised pork paste, Radish in chili oil, Special soy sauce, Fried peanuts, Capsicol, Chopped green onions
1. Rice Noodle Bag: rice, edible cornstarch, water
2. Braised Pork Bag: Pork, soybean oil, shallots, onions, sweet soybean paste, seasoning wine, ginger, soybean paste, spices
3. Radish Bag: Radish, Edible Vegetable Oil, Edible Salt, White Sugar, Chilli, Sesame, Fermented Soya Beans, E631
4. Soy Sauce Bag: brewed soy sauce, edible salt, edible corn starch, maltodextrin, sugar, yeast extract , star anise powder, clove powder, cinnamon powder, cumin powder, geranium powder, green onion powder, spices, E631, Disodium 5'-ribonucleotide, anhydrous
5. Fried Peanuts Bag: peanuts, edible Vegetable Oil, edible salt, E631
6. Capsicol Bag: vegetable oil, pepper, white sesame, edible salt, spices
7. Green Onion Bag: Green Onion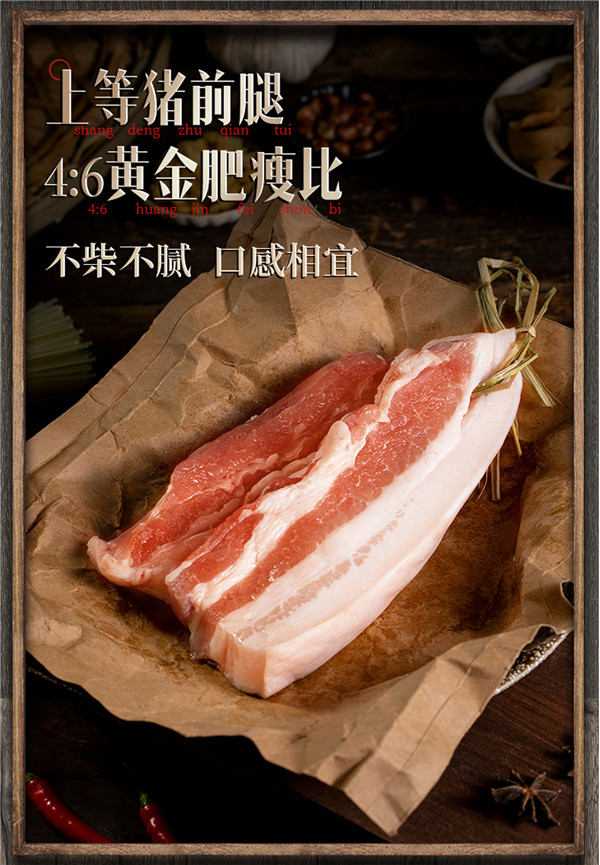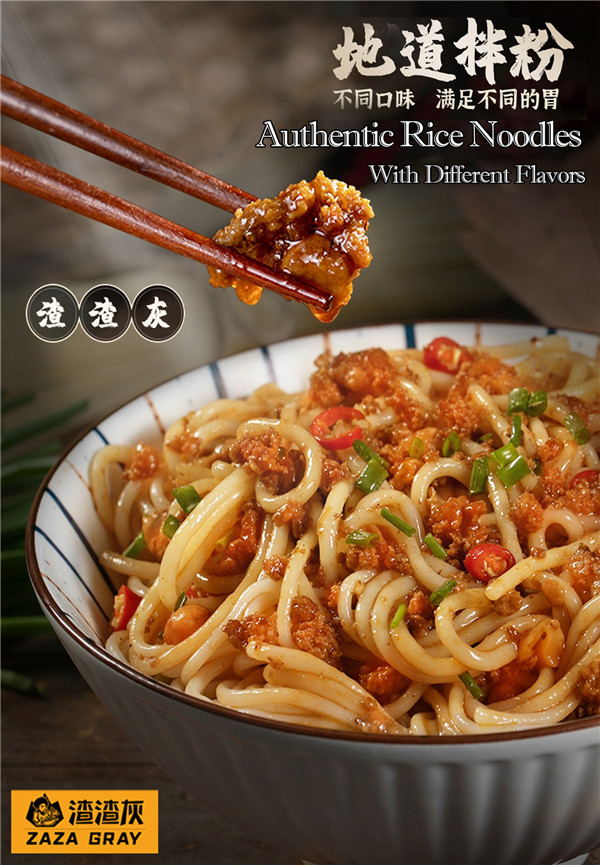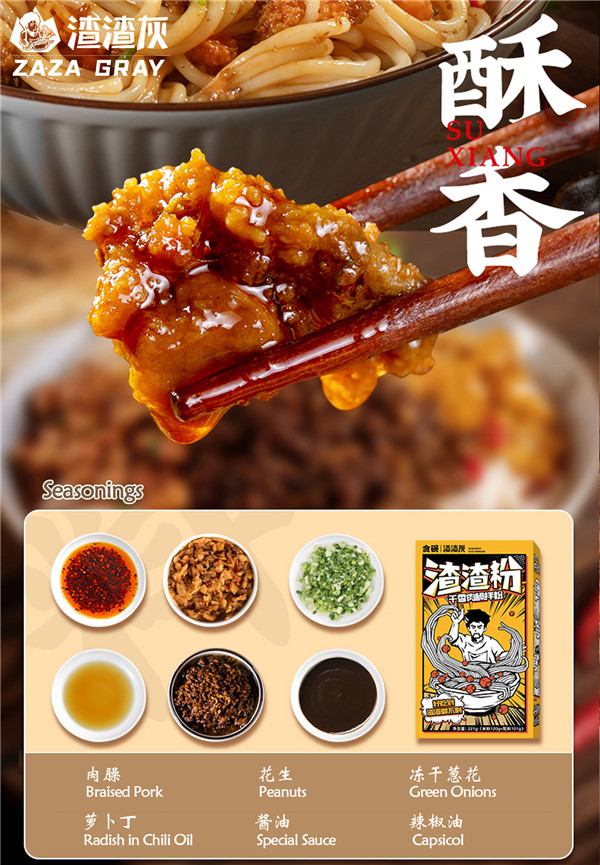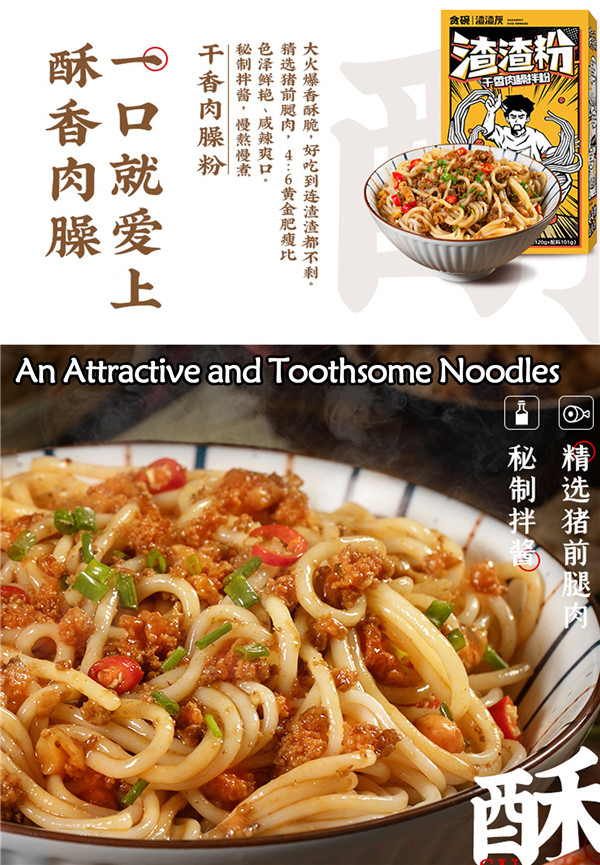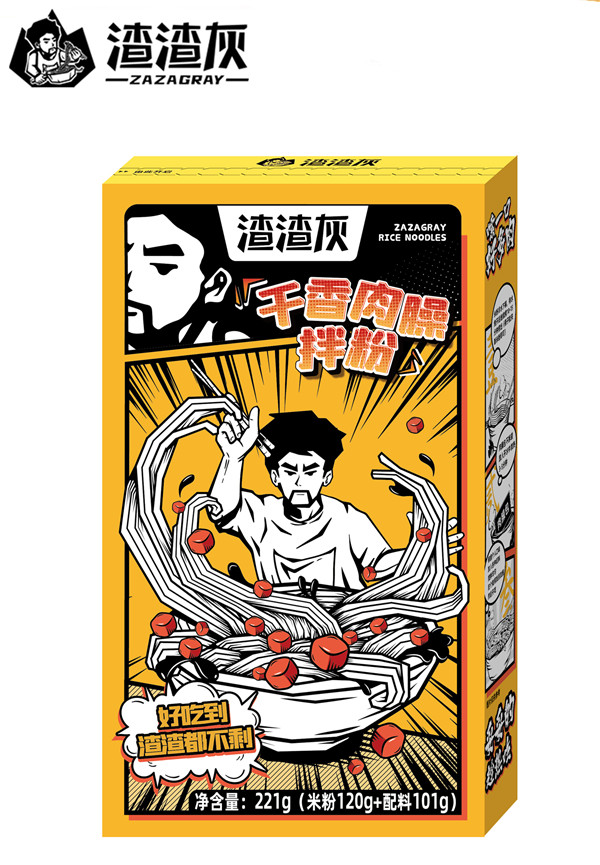 | | |
| --- | --- |
| Product Name | Spicy Rice Noodles with Braised Pork |
| Brand | ZAZA GRAY |
| Place of Origin | China |
| OEM/ODM | Acceptable |
| Shelf life | 180days |
| Cooking Time | 10-15minuts |
| Net weight | 221g |
| Package | Single pack color box |
| Quantity / Carton | 32 boxes |
| Carton Size | 43*31.5*26.5cm |
| Storage condition | Store in a dry and cool place, avoid high temperature or direct sunlight |