Spicy Rice Noodles with Pork Intestine
Product Detail
Product Tags
Spicy Rice Noodles with Pork Intestine
Stewed pork intestine in bone soup, paired with rice noodles vermicelli, adding Sichuan style spicy sauces and toppings, A well-known Sichuan flavor spicy rice noodle is ready! Never miss it beause of its name, you will defenitly love it when you have a try.
ZAZA GRAY pork intestine rice vermicelli is smooth in taste, rich in nutrition and time saving, which is suitable for the young as well as the old. And it is ideal choice for family party, trip snack.
Rice noodle, Hot flavor sauce, Pork broth, Braised pork Intestine, Soybean sprouts, Fired Peanuts, Chopped green onions and coriander
1. Rice noodle: rice, edible cornstarch, water
2. Hot flavor sauce:chicken oil, vegetable oil,soy sauce,wheat,sugar, rice, soybean paste, pepper, ginger, garlic
3. Pork broth: water, salt, pork bone original soup flavor, soy sauce, sugar.
4. Braised pork Intestine: Pork intestine, water, soybean oil, lo-mei seasoning, ginger, green onion, seasoning wine, salt, sugar
5. Soybean sprouts: Soybean sprouts, salt, vegetable oil, sugar, chili pepper,
6.Fired Peanuts: peanuts, vegetable oil, salt
7. Chopped green onions and coriander: green onion, corinader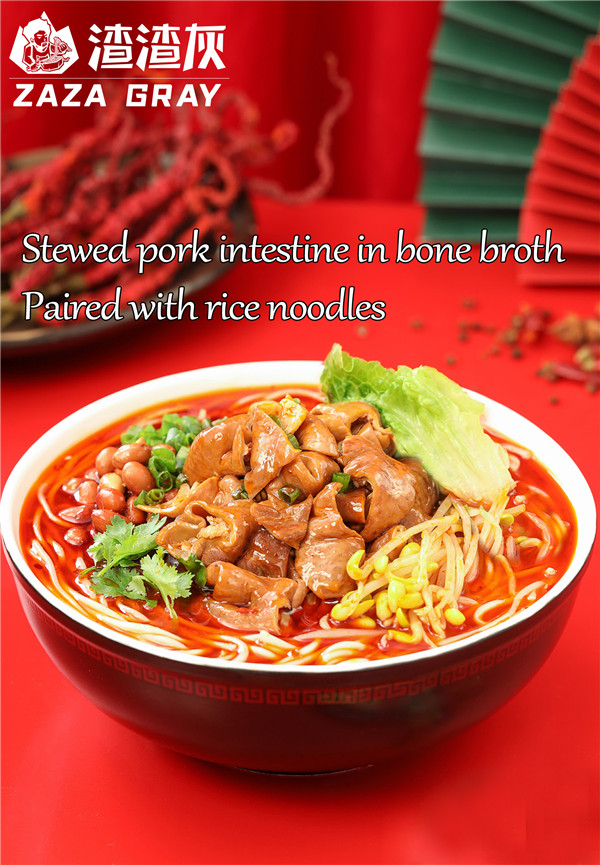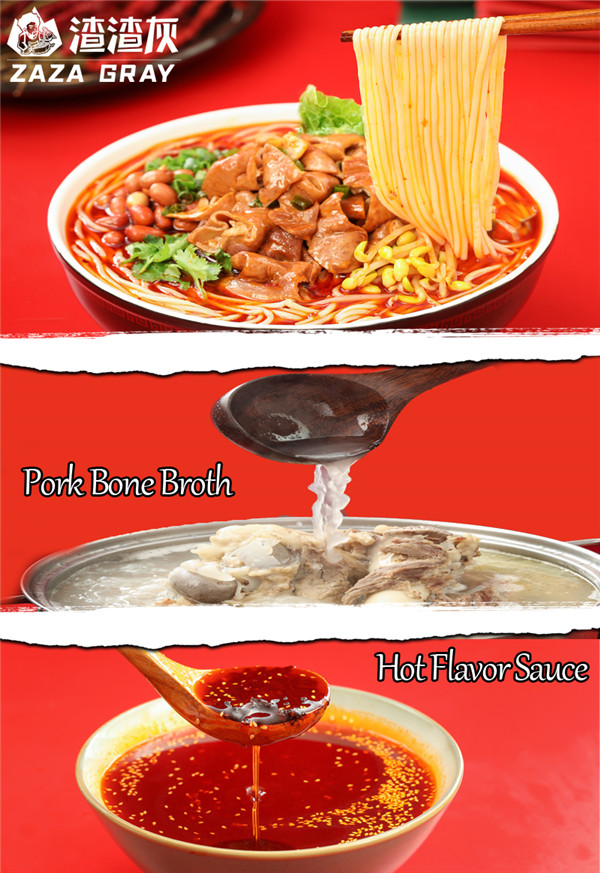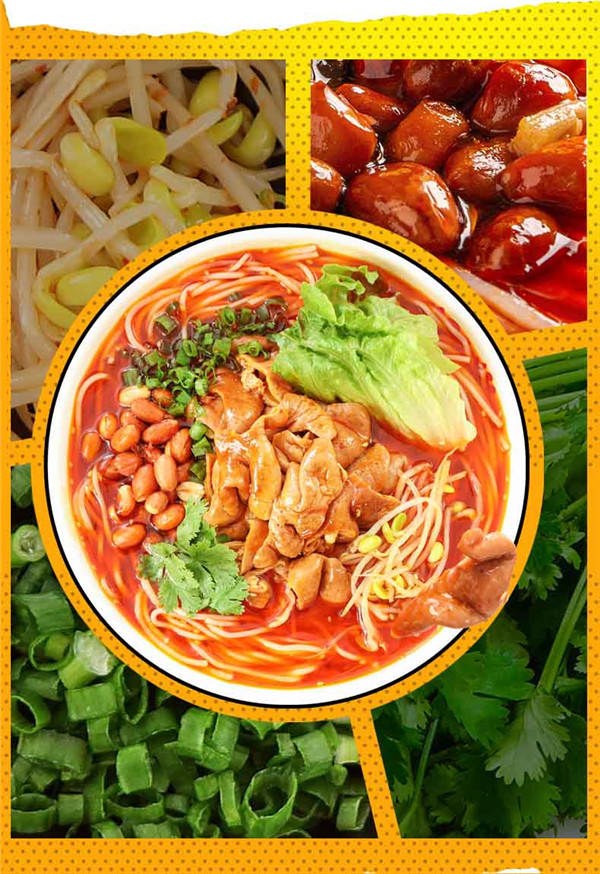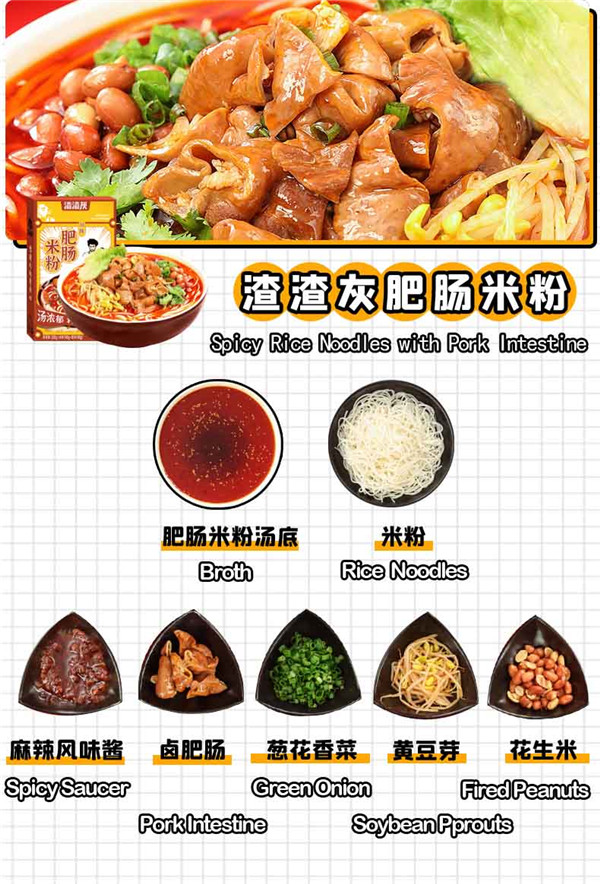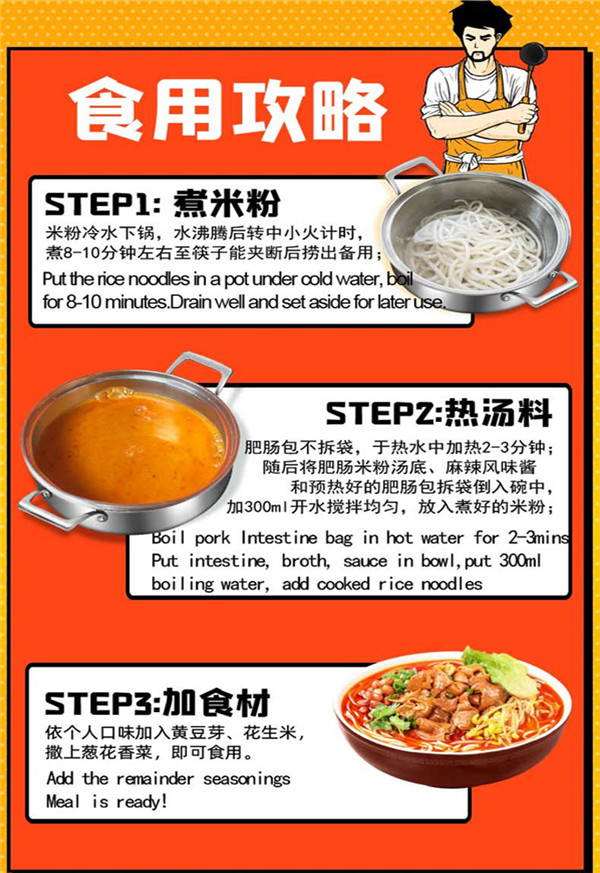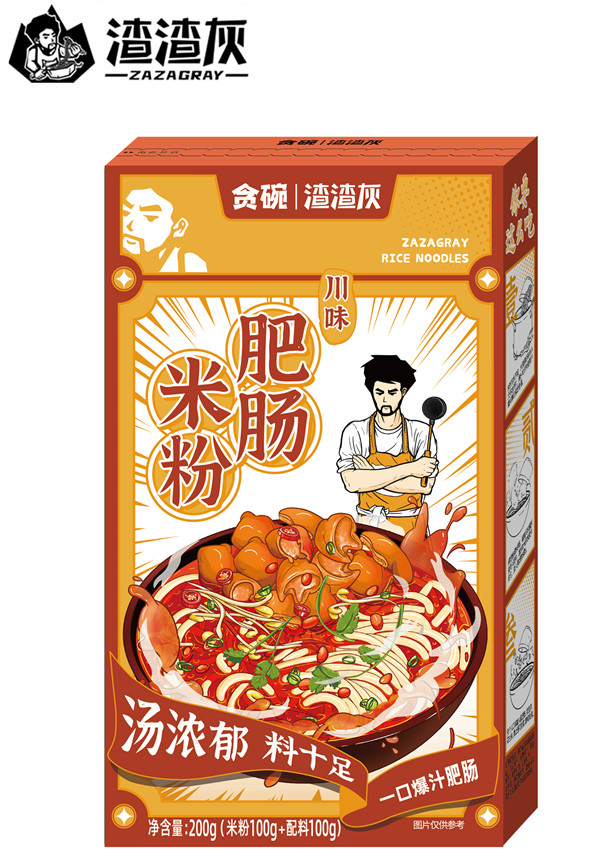 | | |
| --- | --- |
| Product Name | Spicy Rice Noodles with Pork Intestine |
| Brand | ZAZA GRAY |
| Place of Origin | China |
| OEM/ODM | Acceptable |
| Shelf life | 270days |
| Cooking Time | 10-15minuts |
| Net weight | 200g |
| Package | Single pack color box |
| Quantity / Carton | 32 bag |
| Carton Size | 43.0*31.5*26.5cm |
| Storage condition | Store in a dry and cool place, avoid high temperature or direct sunlight |