Crossing Over Bridge Mixian – Noodles in Chicken Broth
Product Detail
Product Tags
Crossing Over Bridge Mixian - Noodles in Chicken Broth
A Yunnan noodle cuisine trace back to Qing Dynasty in China, chicken soup with umami flavor, Paired with big chunks of chicken, rich toppings and Miishien. Just one bite, a great sense of happiness!
Crossing Over Bridge Mixian is completed with three parts: a bowl of steaming hot delicious chicken soup, side ingredients like vegetables, meat, eggs, tofu, fish, shrimp, then the rice noodles. All you need to do is to keep the chicken soup hot, then you could make a delicious noodle soup bowl whenever you would like to. Having a giant bowl of crossing over bridge noodles is highly satisfying and extremely fun in a day.
This Cross-Bridge Rice Noodles is undoubtedly the most famous Yunnan rice noodles so far, it swept over the country for its smooth tender taste, rich ingredients and various flavors.
Rice noodles, Chicken broth, Chicken pieces, Black fungus, Fried assorted mushrooms, Chopped green onions and chives
1. Rice Noodle Bag: rice, edible cornstarch, water
2. Chicken Broth Bag: chicken soup seasoning, water, chicken oil, E621, maltodextrin, white sugar, salt, E1422, spices, chicken powder, E415
3. Chicken Pieces Bag: chicken, vegetable oil, edible salt, yeast extract, brewed soy sauce, compound seasoning (salt, sugar, starch, papain, E631, vegetable oil)
4. Black Fungus Bag: black fungus, water, salt, E621, citric acid, D-sodium erythorbate, Disodium 5'-ribonucleotide, E202, sodium dehydroacetate
5. Fried assorted mushrooms Bag: mushrooms, chicken mushrooms, vegetable oil, edible salt, E621, chili, spices
6. Green Onion and Chives Bag: Green Onion, Chives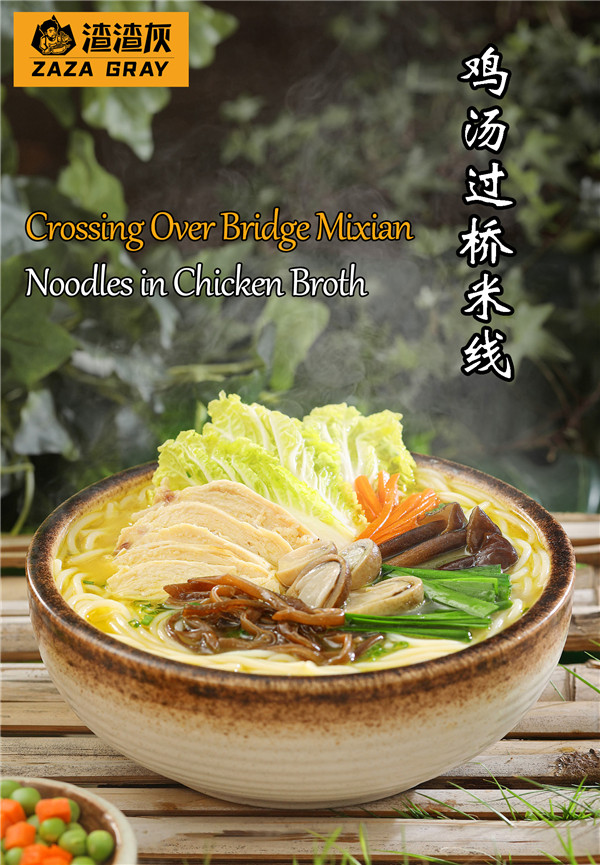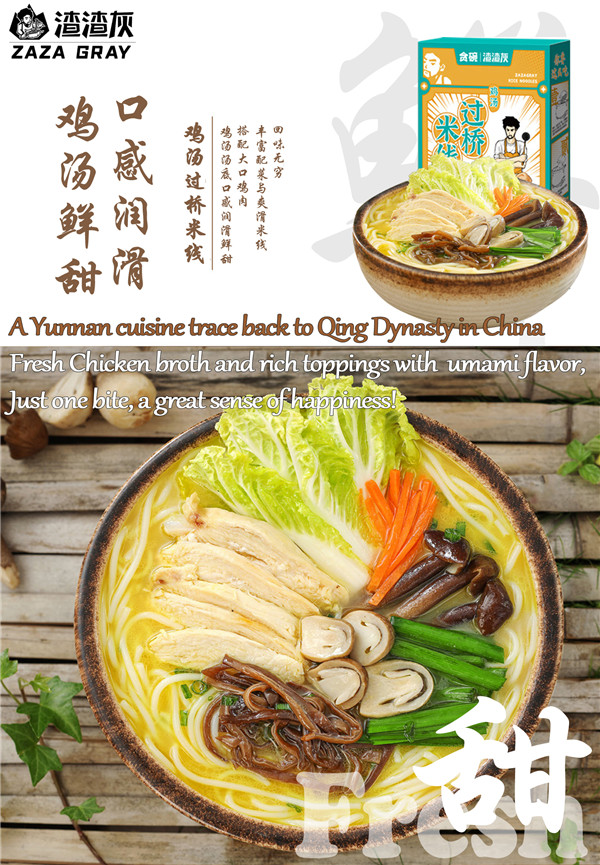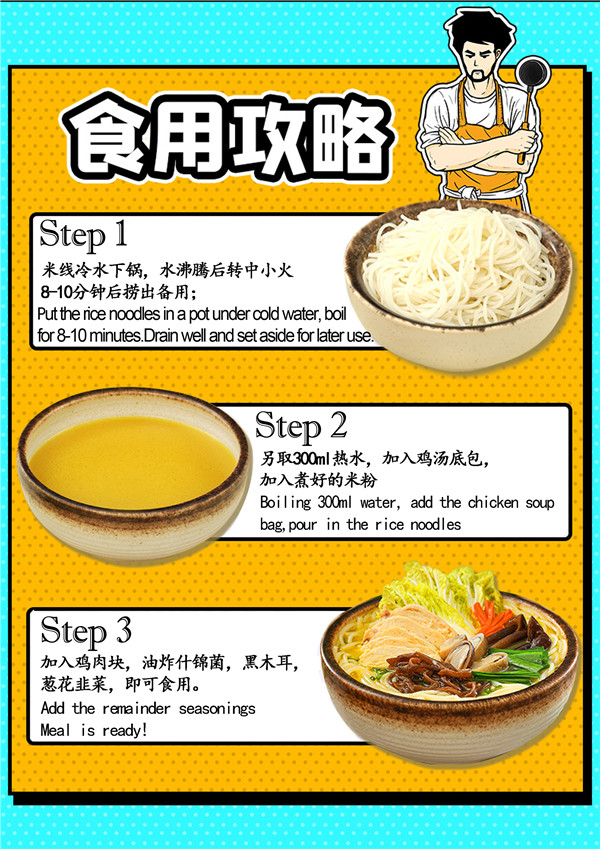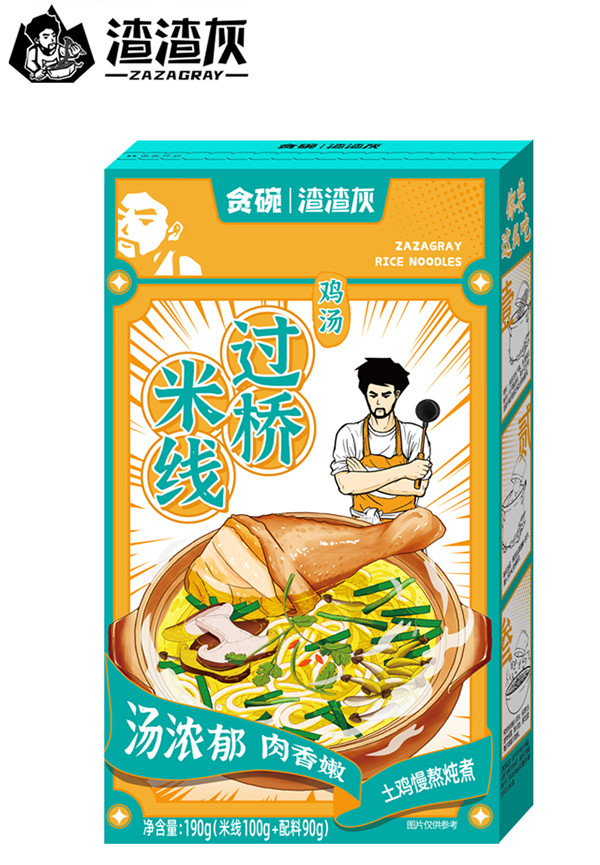 | | |
| --- | --- |
| Product Name | Crossing Over Bridge Mixian - Noodles in Chicken Broth |
| Brand | ZAZA GRAY |
| Place of Origin | China |
| OEM/ODM | Acceptable |
| Shelf life | 270days |
| Cooking Time | 10-15minuts |
| Net weight | 190g |
| Package | Single pack color box |
| Quantity / Carton | 32 boxes |
| Carton Size | 43*31.5*26.5cm |
| Storage condition | Store in a dry and cool place, avoid high temperature or direct sunlight |